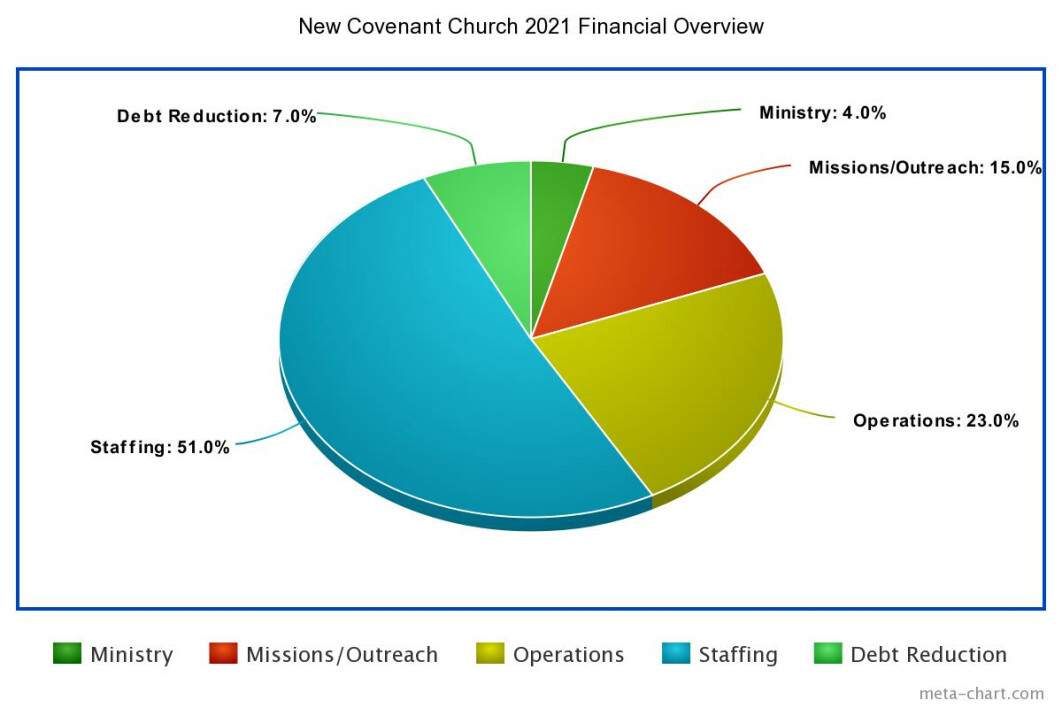 Staffing: Full time and part time salaries (wages), retirement/benefits, travel, conference (all things related to staffing)
Ministry: Monies spent directly in specific areas such as; youth, women, men, children etc. What doesn't show in this amount would be the salaries of staff and key volunteers that invest huge amounts of time each year in face-to-face ministry
Missions and Outreach: We have 3 local ministries and 3 foreign missionary families that we partner with financially each month (as well as in very tangible ways). We also help out on a 'one-time' basis with needs that come up through out the year. We usually in up giving financial help to between 10 and 12 different ministries within a year
Debt Reduction: We are always actively trying to reduce our debt. Obviously for 4 of the past 5 years we've been building so we've actually been able to do more this past year (2021) than in the past. We hope to aggressively attack it over the next few years.
Operations: This area encompasses those things that are generally reoccurring and ongoing. Anything from - mortgage, utilities, subscriptions, supplies, landscaping, equipment, repairs, replacement of equipment, etc.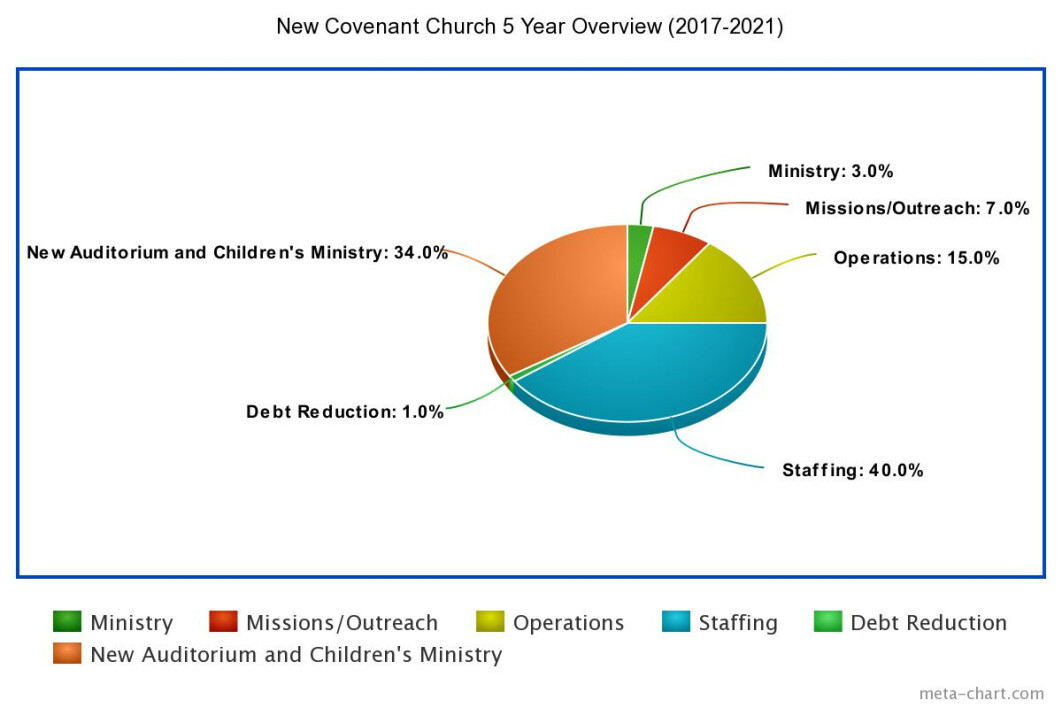 A lot has happened in the past five years so we thought it would be beneficial to give a financial update not only for the past year (2021) but also for the past 5 years. Early 2017 was a time of transition for NC and then turned into a year of unexpected growth! God began to really move among us and all areas of the church began to expand. By the end of the year it became apparent that we would need to expand. The need to expand was not only evident in the auditorium but also in our NC Kids program. We launched out in a bold way to begin a capital campaign that would end up surprising all of us. In 2019, after a long year of building (much of it done by staff and a few key volunteers) we finally had our first service in our new auditorium. We are still amazed that over 850k came in to help us complete the building. We immediately began to work on the old auditorium to turn that space into our NC Kids area. Again, doing much of the work ourselves, we were able to complete 7000 square feet of ministry area without borrowing to complete it! God has been so faithful and provided exactly who and what was needed every time. We're now in the final phase of our construction and building 3000 sq. ft. of office space above the lobby of the new auditorium. Once again we plan on trying to do most of the work ourselves and not borrow any funds to complete it.
We thought we'd list some interesting facts about the past five years:
- Average Attendance in 2017 – 380 to Jan. 2020 (pre-pandemic) 600 (and as of March of 2022 we're almost back there)
- Average in NC Kids in 2017 – 70 to Currently – 140
- Average growth in giving over 5 years – 11.4% per year
- Over past five years we've add 1 full time and 4 part time positions on staff (from the beginning of 2017)
- We've added 24k square feet of ministry space
- Around 850k came in for the new auditorium and finished of 7000 sq ft for NC Kids for under 200k.
- Started the support of two more missionary families!
- Have added several ministry areas (The Harbor, WeCovery)
- Increased our small groups from 13 to 20.